Rapport fra EuroCall 98
From classroom teaching to world wide learning
Min deltagelse i EuroCall 98 skyldes et rejsestipendium fra TIPS- og lottomidlerne (J. nr. 1997-211-17) Jeg håber med denne rapport at kunne yde lidt til gengæld for de bevilgede midler.
Rapporten består af lydoptagelser af foredrag og demonstrationer fra EuroCall konferencen (Så det på denne måde er muligt for interesserede at følge disse begivenheder), billeder, korte referater / sammendrag af mine erfaringer samt abstracts fra de enkelte forelæsninger, foredrag og demonstrationer
Efter aftale med enkelte af fordragsholderne vil jeg senere lave nogle web-baserede opgaver i sammenhæng med lydoptagelserne, specielt er optagelser med David Herren velegnede til dette formål. Disse opgaver vil være tilgængelige for alle på adressen http://lang.ots.dk
Dette var andet år jeg deltog i en EuroCall konference. Igen dette år var jeg begejstret for både det faglige indhold samt de sociale rammer om samme indhold. Jeg kan på det varmeste anbefale den årlige EuroCall konference, næste år er i Besancon i Frankrig. Ingen anden konference jeg har deltaget i er så alsidig og medfører så mange kontakter til ligesindede sproglærere som EuroCall gør.
Indhold:
Der var som indledning til EuroCall 98 mulighed for at deltage i forskellige workshops blandt andet: Authorware, Capital SIG, WinCalis, Question Designer, ToolBook II, HTML and web-design, Translation Tools og WIDA authoring.
Min interesse samlede sig om ToolBook Instructor. Jeg har gennem mange år anvendt dette redskab som forfatterværktøj samt programmeringspog. Workshoppen blev forestået af Andre Rosendaal lederen af ToolBook brugergruppen i Holland.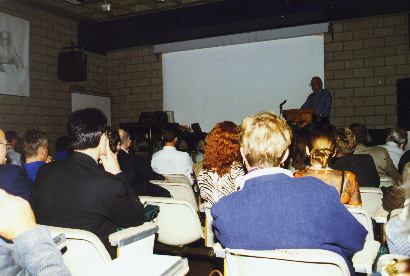 Den første "Key Note" speech blev holdt af Professor dr. Graham Davies. Han fortalte om udviklingen af forfatterværktøjerne gennem tiden. Foredraget var bygget op over de fire tilgange til at skrive programmer til sprogundervisningen:
1. KISS: Keep It Simple and Stupid
2. The integrated approach
3. A multimedia package
4. Generic Call
Hør hele Graham Davies foredrag - Dette kræver Real Audio plug-in
KISS: Keep it Simple and Stupid:
The author's own authoring packages, Fun with Texts and GapKit, have been best-sellers in the UK secondary schools sector since the mid-1980s. The reason for their popularity is probably because they enable the busy teacher to generate the maximum amount of work for the student in the shortest possible time. Neither package can claim a high degree of sophistication or flexibility, but a teacher with a basic knowledge of Windows can learn how to use them in an hour or two. Fun with Texts requires the teacher only to find a suitable text that the computer automatically prepares for a variety of text-manipulation exercises, and GapKit is designed for the creation of gap-filling and multiple-choice exercises, with the possibility of enhancing them with pictures and sound.
The integrated approach:
Wida Software's Authoring Suite is a collection of programs designed specifically for the language teacher. The original separate authoring programs from which the Authoring Suite has been developed fell into the KISS category: Storyboard, Choicemaster, Gapmaster, Testmaster, Matchmaster, Vocab and Pinpoint. These have all been rewritten to provide a more user-friendly authoring integrated CALL authoring environment that offers the possibility of multimedia enhancement.
A multi-purpose package:
Question Mark Designer by Question Mark Computing is a sophisticated multi-purpose authoring package which lends itself well to the creation of CALL materials. A variety of exercise types can be produced with this package, all of which can be enhanced by multimedia. The main advantages of Question Mark Designer are the ease with which it can be integrated with other packages and the possibilities it offers in delivering and analysing tests.
Generic CALL:
The problem with most authoring programs is that they offer a one-off solution. The materials created with them can only be used in conjunction with the authoring package that is used to create them. A new EC-funded project, known as MALTED (Multimedia Authoring for Language Tutors and Educational Development), aims to provide an authoring environment specifically geared to the needs of language teachers by developing new sets of tools and templates for the creation of pedagogically sound multimedia courseware, including datasets of content-rich materials from a common pool, to which participants may also be able to contribute new or re-versioned content to ensure its dynamism. The materials will be constructed in an open framework which will allow for multiplicity of instructional design approaches.
Der bydes velkommen til EuroCall med introduktion af de efterfølgende hovedtalere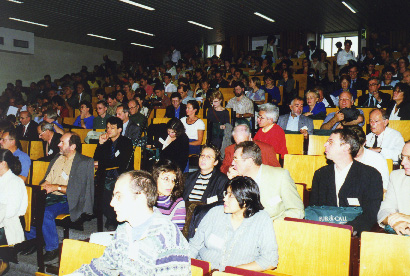 Lyt til introduktionen - Dette kræver Real Audio plug-in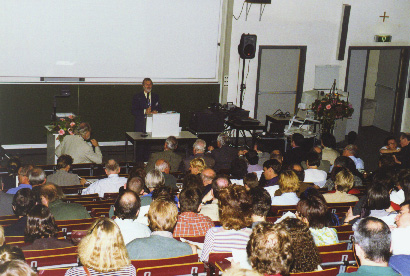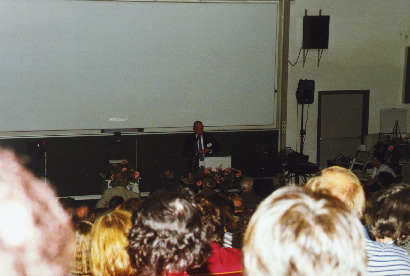 Hovedtalen blev holdt af den spanske ambassadør i Danmark, Jose Louis Pardos. Ambassadøren har arbejdet med netværk gennem mange år startende med det såkaldte FIDO-net, som var forløberen for Internettet (d.v.s. den folkelige forløber), han arbejder specielt for at danne "sister cities" mellem spanske og danske byer - Silkeborg og Ishøj er blandt de byer som har fået en venskabsby gennem netværkssamarbejdet.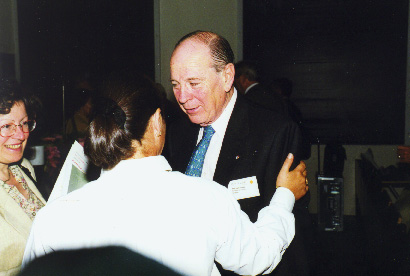 Lyt til ambassadørens tale Mindste datafil, men dårligste kvalitet - Dette kræver Real Audio plug-in
Lyt til ambassadørens tale Største datafil, men også bedre kvalitet - Dette kræver Real Audio plug-in
First will be described the origin and some distinct periods in the history of "Sí, Spain": from a BBS Info to the web and the present challenge of its transfer to the Ministry of Foreign Affairs in Spain. Key problems are maintenance and updating. Out of our working experience 'on-line' for more than 5 years, we developed a basis for a new learning: flexibility, no formal constraints (time, place, work, cultural environment), working/learning on a voluntary basis, progressively and slightly specialized and with a coordinated and stimulating direction. Some statistics will illustrate the impact of such a website (more than 3.500.000 hits, an average of over 26.000 calls daily, from 124 countries,…)
At the beginning, in 1993: a basic system for general information (geographical data, history, language and culture), with easy reading and full comprehension were our objective. New features were added: politics, public administration, foreign affairs, economy and trade, social information, educational science and technology. For Spaniards calling from all over the world we developed a section for traveling to Spain, learning languages, offering media, and special advice for Spaniards abroad.
From classroom teaching to the world-wide experience in the new Ciez@net telematic group in South-East-Spain, Cieza (Murcia) is a story of how schools were attracted and the regional government got involved. Under the 'Consensus-progressive-development' approach of the Ciez@nos, an interesting process of interaction, among the City Hall, the Schools and the Media, as well as the Regional Government and the University has begun to warm up their Political, Cultural and Economic environment. The change of quality of education is evident. Similar and very practical experiences from all over Europe will be mentioned: "The EUNet" Program of the European Commission, the 'digital-sister-cities' experience: Silkeborg (Jutland), Denmark and Cieza, (Murcia), Spain. There is no doubt by now about the future exponential increase of the use of Internet.
Should we have a Plan agreed by the European Commission? In any case, it should be flexible enough and quick to allow all the creativity that comes out with some new and unexpected ways of educational communication. For our urgent need of new ways of learning we need at least a sort of frame-work. The Report of the CoR (Club of Rome)concluded in 1979 that anticipation and participation are the keys for an innovative learning and can be the firm basis for a growing process of innovation. Now, in 1998, it is interesting to see how the CoR experience could be developed via the Internet and at a Regional Level (Europe). Many examples will be given. Some of the examples we have in mind now may have changed when we present them, because of the speed of events and the creativity generated by the many interactions at play.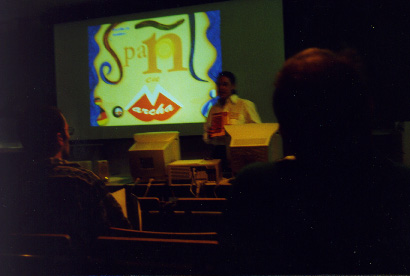 Allerede sidste år fik jeg øjnene op for de spanske multimedia. Jeg valgte derfor at overvære en demonstration af Ana Gimeno Sanz som fortalte om sin ny CD-ROM - Espanol en marcha. Jeg kan anbefale interesserede i spanskundervisning at købe denne CD-ROM. Produktet virker særdeles gennemarbejdet med gode ideer. Anvendeligt fra mellemniveauet.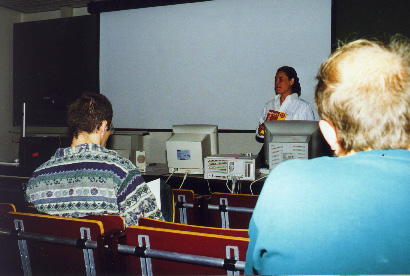 The author will report on issues which relate to the acquisition of Spanish as a foreign language through multimedia courseware. She will base her discussion on the development, use and evaluation of the recently published "español en marcha", a flexible, student-centred multimedia course developed at the Universidad Politecnica de Valencia within the EU funded CAMILLE Project (Computer Assisted Multimedia Language Learning Environment).
The courseware described exploits full motion video, audio, text and illustrations in a variety of interactive exercises, as well as a sound-enhanced bilingual dictionary, hypertext reference books on Spanish culture, functions of language and grammar, a detailed student assessment report and three support languages (English, French and German). The software, which has been created for networking purposes, is intended for both autonomous and tutor-guided learners.
The author will discuss how learning technology is forcing teaching strategies to change and how technology is moving faster than methodology and its consequences on language acquisition. The author will also discuss issues relating to the combination of CD-ROM-based learning materials and WWW-based complementary learning activities for distance learners, in search of ways of trying to adapt innovative learning strategies to the new media.
Side issues such as autonomous learning, student motivation and evaluation will also be approached.Ana Gimeno-Sanz will also talk about designing multimedia applications for networking purposes based on the recent creation of a networked multimedia language laboratory at the UPV and the need of developing courseware managers to aid students in their autonomous learning tasks.
Dette foredrag blev holdt af Fee Ruhlmann. Jeg har tidligere arbejdet sammen med Fee i et projekt som involverede partnere i Tyskland, Sverige, England og undertegnede. Jeg måtte derfor lytte til en umiskendelig fynsk accent da Fee gennemgik programmets danske del.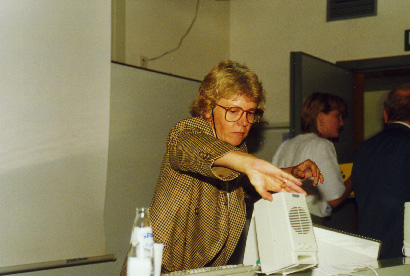 This paper examines the results of an empirical study in which a number of conceptual and presentation design approaches to multimedia tutorial applications were evaluated with teachers and learners. The aim was to determine users' preferences and learning strategies and to find out to which extent design methods influence learner motivation and effective learning. The question whether there is a role for constructivist systems design in an instructional framework will be discussed and how an integrated design method may contribute to a wider acceptance of computer based learning modules in higher education. The comparative study is primarily based on two multilingual self-study tutorials which were developed with the help of the European Commission. One of the main aims in both applications was the contextualization of language learning with a view to enhancing the acquisition of specialized terminology and factual knowledge simultaneously.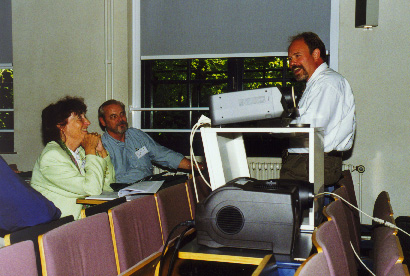 Dette foredrag / demonstration af David Herren var særdeles informativt og levende. Jeg har kendt David gennem mere end 10 år og kun få udviklere af multimedia har som Davis forstået at være ajour med de muligheder som teknologier løbende tilbyder.
David Herren har hidtil kun opereret i Apple / Mac-verdenen, men med hans nye forfattersystem kan opgaver flyttes til Mac, IBM-compatible og UNIX maskiner.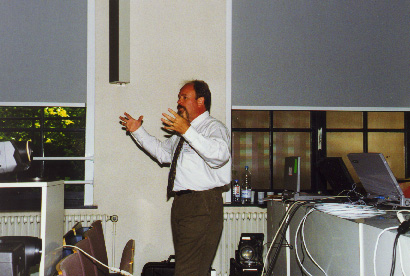 Historically, the tools used to prepare language learning materials have been based upon platform specific authoring systems such as Toolbook, or HyperCard. These tools have significantly eased production of a library of materials deployable upon the platforms for which they were designed. Two important features within that model have been omitted: true network aware applications, and true cross-platform authoring and delivery. While some tools have been used to deliver materials cross-platform, they are frequently weak in terms of color matching, hardware dependence, support for Asian and/or right-to-left texts, etcetera.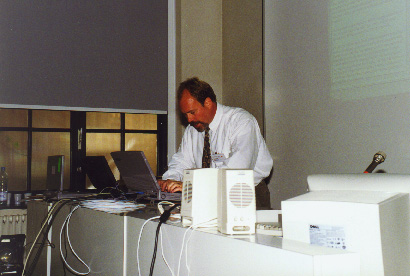 Now imagine an authoring system which runs identically on four different operating systems and processor architectures. Imagine further that this authoring system not only allows development of materials on several systems, but the lessons produced may deployed upon any of the other systems and hardware architectures irrespective of the machine upon which they were authored--all without a single change to the lesson. Now imagine that the same authoring system is 100% Unicode aware--absolutely every piece of text anywhere within the application may be presented in any of the world's languages, including spell-checking in five languages. Application menus may be automatically switched among languages depending upon the preferences of author or student. Imagine a system which supports interactive annotations of live HTML data including access to the local hardware for CD-ROM, DVD, or videodisc control. Client/server in design, the authoring system will connect to a multimedia and glossary database across the net and will pre-load any lessons you create with topically relevant media and glossary items. Finally, the system tracks copyright information for every instance of all media within the lessons it produces.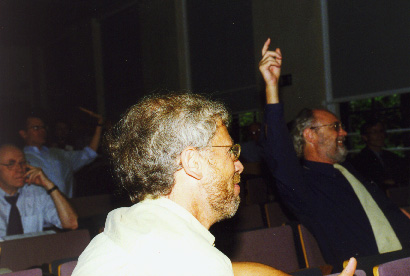 Is any of this possible? Yes, and it's available. This paper will introduce the latest iteration of xMediaEngine from the Center for Educational Technology.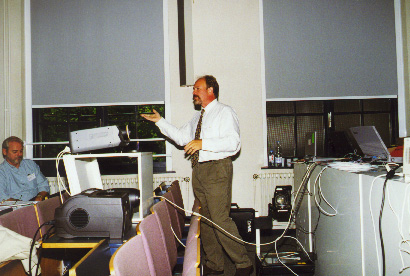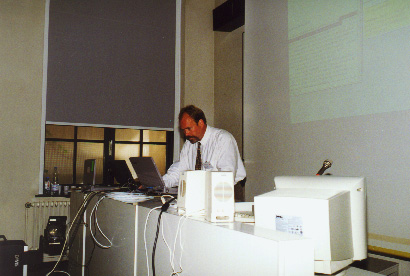 Lyt til hele David Herren's foredrag - Dette kræver Real Audio plug-in
Dette var ikke den største oplevelse, men alligevel interessant. Efter min mening er selve opstillingen af et satellitbaseret kommunikationssystem lidt for meget teknologifikseret, men selve debatten var, i følge nogen af deltagerne, interessant og udbytterig, personligt fandt jeg den for overfladisk!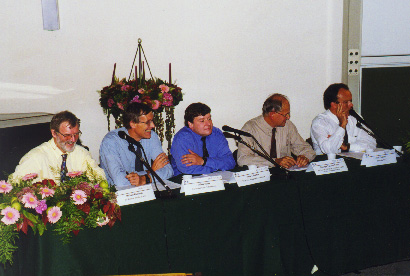 ICT crosses the borders of time and space that the traditional classroom is limited to. At the same time the teacher withdraws and the learner comes to the foreground as the prime agent of learning.
A panel of experts on distance learning and ICT in language teaching both sides of the Atlantic will discuss a number of issues and confront classroom experience, such as:
opportunities for learner autonomy and learner initiative in an ICT enviromnment versus more teacher power (tracking systems, technical dependence, drill and practice, multiple choice,...)
teacher-authored (with authorware) practice materials versus ready-made courseware
the one-computer classroom versus a full multimedia language laboratory (advantages, disadvantages, activities and strategies)
Conference participants will be invited to join in with questions 'across the ocean' of "how do you deal with problem x ...?"
Prof. dr. Carine Feyten, University of South Florida, USA
Prof. dr. ir. Georges Van der Perre (chair), K.U.Leuven, Faculty of Applied Sciences, Head of the Leuven Institute for Innovative Learning (LINOV)
Prof. dr. Michaël Goethals, K.U.Leuven, Faculty of Arts, conference chairman
Prof. dr. Arno Libotton: University of Brussels
Prof. dr. Jozef Colpaert, University of Antwerp, UIA, Department of Education
Mr. Valère Meus, University of Ghent, Language Centre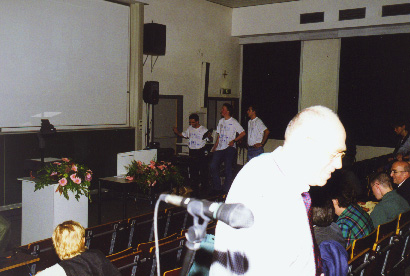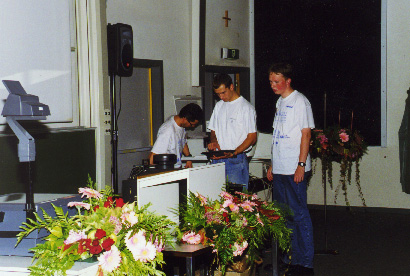 Lyt til hele videokonferencen - Dette kræver Real Audio plug-in
The development of effective multimedia educational software for learning languages has considerably enlarged the scope of pedagogical applications to improve the learner's linguistic, communicative and behavioural skills.
On the basis of my experience as a lecturer at ICHEC and Facultés Universitaires Saint-Louis (Brussels), I will first discuss some of the possible applications within the school/university framework, more particularly with respect to the use of multimedia programs (including my own) for carrying out preparatory tasks before the actual course, for remedial and for self-learning. I will also show how the use of these pedagogical tools greatly contributes to emphasize the teacher's role as the one helping learners to progress autonomously in accordance with their own learning style.
As a courseware developer and basing myself on a project we are currently developing in four languages (Telephoning / Telefonieren / Telefoneren / Téléphoner ; in collaboration with H. BOUILLON, J.L. LETERME and C. NOYON), I will then look into the different criteria that need to be considered when developing multimedia software, i.e. the course's objectives, contents, level(s), target-audience, pedagogical framework, structure, types of activities, feedbacks and interface.
Finally, as a conclusion, I will insist on the importance of the close collaboration between language teachers and developers of modern language learning software to face up to the learner's expectations.
Her var endelig et foredrag med dansk islæt: Lis Kornum fra Christianshavn Gymnasium. Lis præsenterede TINO et system til støtte af læreres efteruddannelse med IT. Det bedste af det hele er at jeg, med lidt held, kan få lov at deltage i projektets næste fase. Som vejleder på pædagogikumuddannelsen ved erhvervsskolerne har jeg benyttet Internettet til kommunikation, dokumentation og debatforum, så jeg kan se mange muligheder for mediets anvendelse til efteruddannelser m.m.
Lyt til optagelserne fra foredraget og læs derefter mere på adressen: http://www.tino.org/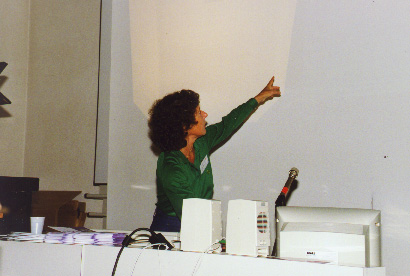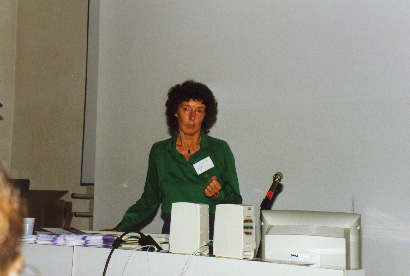 This presentation describes a European project for teacher training in the application of ICT in their teaching methodologies. The project is aimed at both initial and in-service teacher training. The partners are Denmark (coordinator), Belgium, Greece and the Netherlands, and the project is funded by the EU Commission - Socrates Action 1A.
The four partner countries have created a multilingual website for the project, where language teachers and teacher trainers can find information on new teaching materials, such as CD-ROM, multimedia packages, the use of Internet and electronic mail etc.
Furthermore users can read reviews of materials, comment on them on-line, offer to write reviews themselves, exchange experiences in the discussion forum and create contacts.
The target languages of the project are Danish, Dutch and Greek with English as the language of communication, however the methodologies and strategies - as well as much of the material - elaborated in the course of the project are relevant for all language teachers. Thus teachers of all languages and from all countries are invited to consult the TINO website and to give comments or to contribute to the contents.
We expect representatives from all partner countries to be present at the Leuven Eurocall conference to answer questions about the latest development of the project.
Lyt til et uddrag fra foredraget (lidt støj, desværre) - Dette kræver Real Audio plug-in
Dette var det eneste foredrag hvor jeg var dybt uenig i anvendelsen af IT i sprogundervisningen. Graham Bradford fra British Council har fået udviklet en række JAVA applets (programmer til brug på Internettet) og han har ikke gjort brug af de erfaringer man har fået gennem mere end 20 år med IT-støtte undervisning. Hans programmer var utroligt pædagogisk primitive og uden de store chancer (mener jeg) for at virke befordrende på sprogindlæringen. Programmerne var nærmest lave efter princippet "So ein Ding muss ich auch haben" Da andre kursusudbydere laver undervisning gennem Internettet så må British Council med på vognen.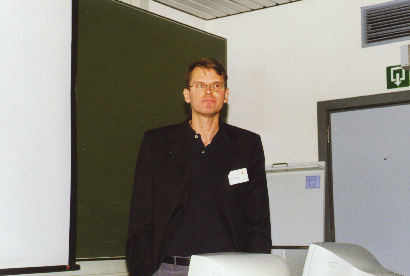 The aim of this project is to deliver high quality, innovative language learning via the Internet. Course components include interactive multimedia web pages, activities to exploit general web resources and e-mail communication.This paper will look at the rationale behind the development of the course and the materials developed to date.
Lyt til et uddrag fra foredraget (lidt støj, desværre) - Dette kræver Real Audio plug-in
Jeg valgte denne demonstration for at optage en helhedsorienteret gennemgang af Internettet, E-mail m.m. Det kan være forfriskende at høre det hele "forfra". Det er også mit indtryk at andre kan få glæde af mine optagelser fra foredraget: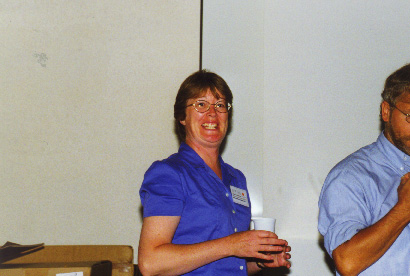 Beginning with a brief, concise explanation of the Internet and some of its functions, particularly WWW and e-mail. Where did it come from ? How to access the Internet. Explanation of jargon on the basis of "need to know" only, such as browsers, URLs and search engines. This introduction will be brief, bearing in mind that most people are familiar with basics of Internet browsing.
We continue from there to explore multilingual sites and sites organised by language. Excellent sources of information for teachers are the home pages of language organisations and associations such as EUROCALL, CTICML, CILT, TELL Consortium, etc., all of which have links to other relevant sites dealing with linguistics, language learning and technology, and pedagogical considerations in using the Web as a resource. Sites that provide authentic language resources such as magazines, comics and crossword puzzles, will be located.
Finally, we will look to the use of e-mail in tandem learning, the work of the International Tandem Network, the experiences of tandem learning in Sheffield University and in Trinity College, Dublin, via their Web sites.
Lyt til foredraget - Dette kræver Real Audio plug-in
For nogle år siden samarbejdede jeg med Marina Dodogovic om en EU-ansøgning som gav resultat i et projekt, som Marina dog ikke selv kunne være med i da hun var flyttet til Australien. Jeg valgte derfor at deltage i hendes presentation for at finde ud af hvor lang hun var nået i sit arbejde med IT siden vi sidst var sammen. Desværre blev mine lydoptagelser af dette foredrag ikke gode da en ventilator præger hele lydbilledet med sin brummen.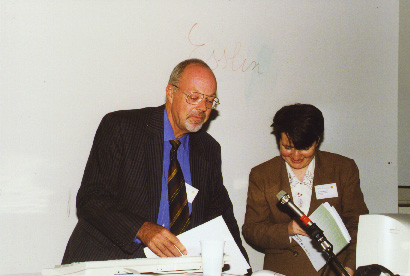 English for Academic Purposes at Macquarie University is moving towards a Web based, open learning course structure. The main modules of the Web package are
hypertext course notes,
interactive tasks,
grammar and vocabulary tests,
electronic essay marking and
corpora exploratorium.
The hypertext course notes are based on electronic text, in which hypertext links have been established between the lectures and a number of external objects, making it easy for students to access all sorts of references. The interactive tasks are closely related to concepts explained in the course notes, thus making it possible for the students to check their understanding of the lectures. Grammar and vocabulary tests are automatic assessment tools, intended to test the basic knowledge of grammar and academic vocabulary. Electronic essay marking is a complex setup involving e-mail and word processing, combined with routines for semi-automatic comment and exercise generation. Finally, the corpora exploratorium offers the research of native speaker and NESB (non-English speaking background) writing. All modules are interconnected via a set of hypertext links and can be used for tutor driven or exploratory learning.
The benefits of this approach for the students lie in the high interactivity of the materials, individualised feedback and the hypertext links to a number of other valuable sources, including the e-mail link to the teacher.
Skulle nogen være interesseret i at uddybe indholdet af de enkelte foredrag m.m. er man velkommen til at stille spørgsmål til undertegnede på e-mail ka@ots.dk Jeg kan også hjælpe med adresserne på de enkelte foredragsholdere.
EuroCall 98 fortsætter mange uger / måneder? endnu, da jeg er i stadig "brevveksling" gennem e-mail med flere af foredragsholderne, på denne måde opnås en fortsat større værdi af deltagelsen.
Mere information om EuroCall, CALICO, TESOL og sprogundervisning generelt kan få gennem min website http://lang.ots.dk
På det personlige plan har min deltagelse i EuroCall 98 betydet mulighed for at deltage i et eller flere EU projekter, dette er opnået gennem kontakter i løbet af konferencen. Jeg arbejder p.t. på et FoU projekt hvor jeg, i samarbejde med Holbæk Tekniske Skole og Michael Svendsen Pedersen, skal udarbejde en IT-kogebog for sproglærere - også dette projekt har fået tilført ny og opdateret viden gennem min deltagelse i konferencen. Endelig har min deltagelse givet mig nye ideer til min egen daglige undervisning på Odense Tekniske Skole (Læs mere om nogle af mine ideer i to artikler skrevet i 98 til sprogbladene "Safran": Sprogundervisning med udnyttelse af informationsteknologi (April måned) og "Sprogforum": Differentieret undervisning støttet af IT (InformationsTeknologi) i forbindelse med "English For Specific Purposes" (oktober måned).
Kent Andersen
Odense Tekniske Skole
This page has since September 3rd 1999 been seen by: